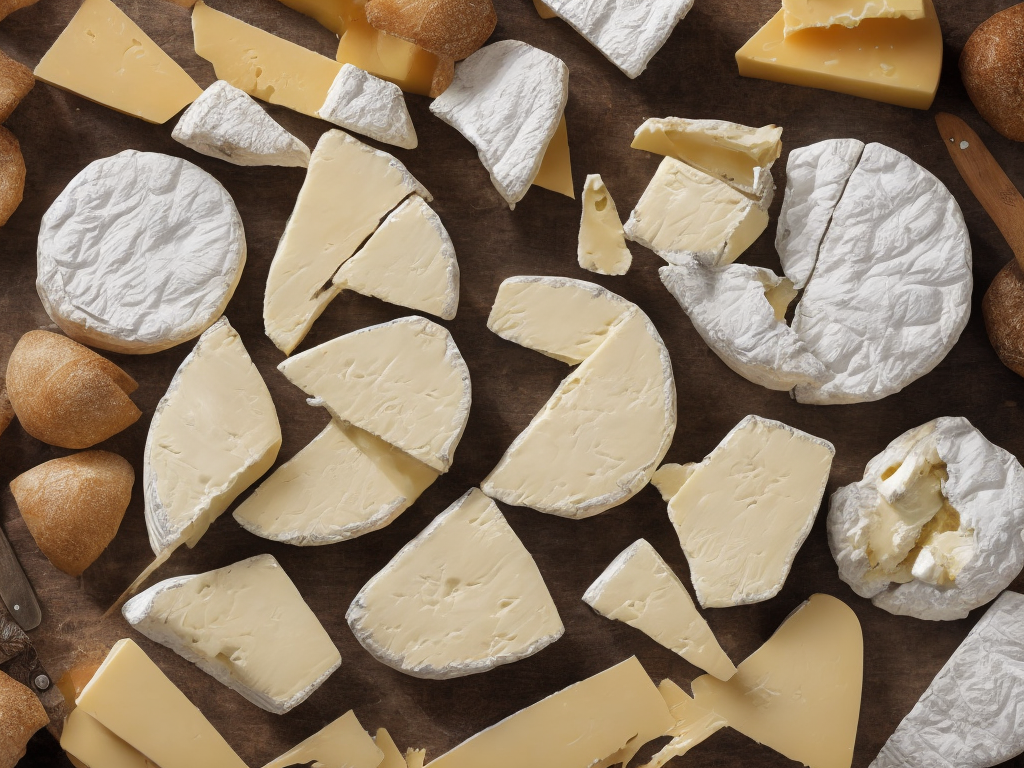 Brie and Camembert are two of the most popular sorts of French cheese. At first glance, these two cheeses seem very similar, and many people mistakenly believe them to be the same thing. However, there are actually several key differences between Brie and Camembert that set them apart from each other. In this article, we will discuss what makes each of these cheeses unique and how they differ from one another.
Brie is a soft cheese made from cow's milk, most commonly originating in the town of Brie in France. The cheese has a pale white inner surface and a soft exterior with a rind of white mold. The flavor of Brie is creamy and mild, with a slightly earthy taste. Brie is often enjoyed with bread, crackers, or fruit, and is an excellent accompaniment to wine.
Camembert is also made from cow's milk, and like Brie, it features a soft texture and a rind of white mold. However, Camembert originates from the town of Camembert in France and has a distinct flavor with a slightly sour or tangy note. The cheese has a soft, creamy texture that is delightful when spread on bread or crackers.
One of the key differences between Brie and Camembert is the size and shape of the two cheeses. Brie is typically larger than Camembert, with a wider diameter and thicker rind. Camembert, on the other hand, is smaller and has a slimmer, more petite shape. This difference in size affects the cheese's texture and flavor, with Brie being smoother and more buttery in texture, while Camembert is denser and more complex in flavor.
The maturation process of these two cheeses is also different. Brie is aged for a shorter period than Camembert, which allows it to retain its creamy, soft texture and mild flavor. Camembert, on the other hand, is aged for a longer period, which results in a more complex flavor with a tangy, sour note that pairs well with crusty bread and red wine.
Another difference between Brie and Camembert is the region in which they are produced. Brie is primarily made in the Brie region of France, which is located to the east of Paris. Camembert, as mentioned earlier, comes from the town of Camembert in the northern region of Normandy. The varying geographic factors, such as temperature, humidity, and soil composition, contribute to the unique flavor and texture of each cheese.
The process of making Brie and Camembert is also slightly different. Both cheeses are made using a similar process of curdling milk, adding starter cultures of bacteria and mold, and then draining the curds. However, Camembert is traditionally made by pouring the curds into small molds, which are then drained and compressed to form the distinctive oval shape of the cheese. Brie, on the other hand, is made by scooping the curds into larger molds, which are cut into wedge-shaped pieces before serving.
In terms of nutritional content, Brie and Camembert are quite similar. Both are high in fat, with a single ounce of either cheese containing around 100 calories, 7 grams of fat, and 6 grams of protein. However, the unique flavors of each cheese may make one slightly more appealing to certain individuals over another.
In conclusion, Brie and Camembert are two of the most beloved French cheeses, each with its own unique characteristics and flavors. While they may look and taste somewhat similar, each cheese is distinct in terms of its size, texture, flavor, and production process. Whether you prefer the mild and creamy taste of Brie or the tangy complexity of Camembert, both cheeses are sure to satisfy your taste buds and make an excellent addition to a cheese plate or snack platter.