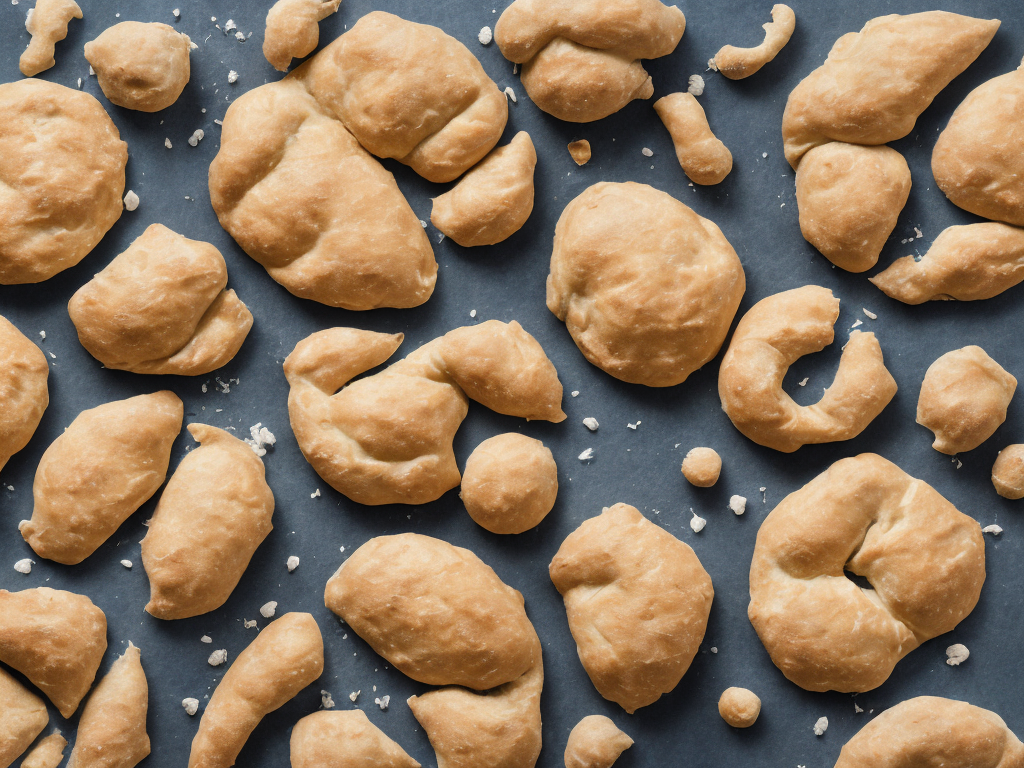 When it comes to baking, it is essential to understand the difference between dough and batter. These two terms are often used interchangeably, but they have distinct characteristics that can greatly affect the outcome of your baked goods. In this article, we will explore the dissimilarity between dough and batter, and how they are used in various recipes.
To begin with, dough and batter are two fundamental mixtures used in baking. They are both comprised of flour, liquid, and other ingredients. However, their consistency, composition, and purpose set them apart from each other.
Dough is a mixture that has a thicker consistency compared to batter. It is usually formed with a low ratio of liquid to flour, creating a stiff and malleable texture. Dough is typically used to make bread, pastries, and other baked goods that require structure and shape. It has enough elasticity to be rolled and shaped without losing its form.
The main component of dough is flour. Flour acts as the backbone of the dough, providing structure and stability. When combined with liquid, usually water or milk, the gluten protein in the flour develops and forms a network. This gluten network gives the dough its elasticity and chewiness. Different types of flour, such as all-purpose flour, bread flour, or pastry flour, can be used to achieve varying levels of gluten development.
Other ingredients, such as fats, sugar, eggs, and leavening agents, can be added to dough to enhance its texture and taste. Fats, like butter or oil, contribute to the tenderness of the dough and improve its flavor. Sugar adds sweetness and aids in browning during baking. Eggs provide moisture and richness to the dough. Leavening agents, like yeast or baking powder, help the dough rise by creating air bubbles.
There are different methods of making dough, depending on the desired outcome. The most common method is the straight dough method. In this method, all the ingredients are combined at once, and the dough is kneaded until smooth and elastic. Alternatively, the creaming method can be used, which involves creaming fat and sugar together before adding the dry and wet ingredients. This method is commonly used for cookies and cakes.
On the other hand, batter is a mixture that has a more liquid consistency compared to dough. It is poured or dropped from a spoon rather than being rolled or shaped. Batter is used to make cakes, pancakes, waffles, and other baked goods that require a softer and more tender texture.
Unlike dough, which relies on the development of gluten, batter is typically made with a higher ratio of liquid to flour. This creates a thin and pourable mixture that does not require much structure. The primary goal in making batter is to evenly distribute the ingredients throughout the mixture, rather than creating a well-developed gluten network.
Flour is still present in batter, but in a smaller proportion compared to dough. The flour serves to thicken the batter and to provide a base for the other ingredients. Liquid, such as milk, water, or buttermilk, is the main component of batter. It helps in creating a smooth and fluid texture.
Similar to dough, other ingredients can be added to batter to enhance its flavor and texture. Fats, like melted butter or oil, contribute to the tenderness and richness of the batter. Sugar adds sweetness and aids in browning. Eggs act as binders and add moisture. Leavening agents, such as baking powder or baking soda, are used to create air bubbles and make the batter rise.
There are several methods for preparing batter, depending on the desired outcome. The muffin method involves combining the dry and wet ingredients separately before folding them together. It is commonly used for making muffins, quick breads, and cakes. The creaming method can also be used for batter, especially when creaming together butter and sugar before adding the other ingredients.
In conclusion, although dough and batter seem similar due to their common ingredients, they have distinct characteristics that make them suitable for different types of baked goods. Dough is stiff and malleable, used for bread and pastries that require shaping and structure. Batter is pourable and more fluid, used for cakes and pancakes that require a softer texture. Understanding the difference between dough and batter is crucial in achieving the desired outcome in your baking endeavors. So next time you whip up a recipe, pay attention to whether you need dough or batter – your baked goods will thank you.