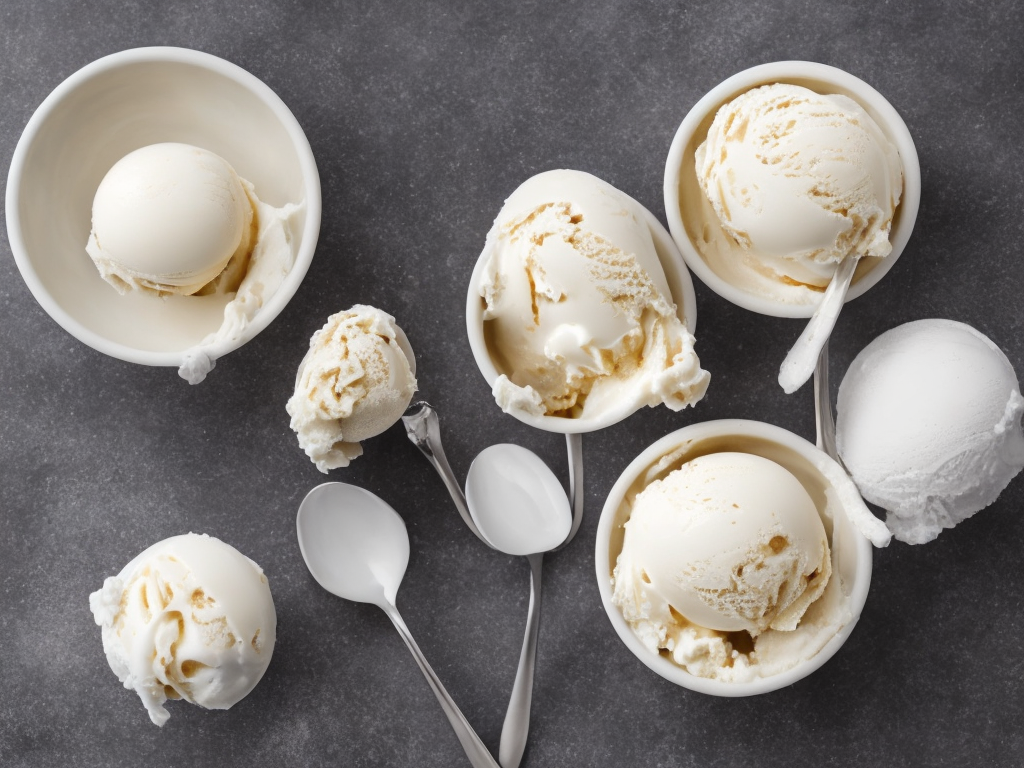 Ice cream and gelato are two popular frozen desserts that often leave us in a dilemma on what to choose. While both desserts contain similar ingredients, they differ in their texture, air content, and serving temperatures.
Ice cream, a frozen dessert that originates from America, is a mixture of cream, milk, sugar, and other flavors. The mixture is blended together and churned rapidly, which infuses air into the mix and creates a smooth, light, and creamy texture. The high air content, known as overrun, is what gives ice cream its fluffy texture. The overrun typically ranges from 25% to 90%, depending on the quality and type of ice cream.
On the other hand, Gelato is a traditional Italian frozen dessert that is typically denser and contains less air than ice cream. The main ingredients used in making gelato include milk, sugar, and flavorings, but it uses more milk and less cream than ice cream, leading to a lower fat composition. Gelato is churned slowly to incorporate less air, which gives it a denser and creamier texture. It usually has a lower overrun of 20% to 35%, resulting in a more intense flavor and a more intense aroma.
Texture
The most significant difference between ice cream and gelato is the texture. While ice cream is fluffy and light, gelato has a softer and creamier texture. Ice cream's high churn rate and high air incorporation lead to its fluffy texture, while gelato's slow churn rate and lower air incorporation lead to a denser and creamier texture.
Additionally, gelato is served at a higher temperature than ice cream, allowing it to melt in your mouth immediately, giving it its creamy texture. Ice cream is typically served at a lower temperature, so it takes longer to melt in your mouth, making it feel fluffier.
Ingredients
Ice cream and gelato both contain similar ingredients such as milk, sugar, and flavorings. However, the ratios of these ingredients differ between the two desserts, resulting in different tastes, textures, and fat compositions.
Ice cream typically contains more cream than milk, giving it a higher fat content. On the other hand, gelato uses more milk, making it less fatty than ice cream. Gelato's lower fat content gives it a creamy texture that doesn't coat your mouth with fat as ice cream does.
In addition to the base ingredients, both desserts use a variety of flavorings such as fruit, chocolate, vanilla, and nuts. However, gelato flavors are generally more intense, thanks to the slower churn rate and reduced air content, which enhances their aroma and taste.
Serving Temperature
The serving temperature of ice cream and gelato significantly affects their texture and taste. Typically, ice cream is served at a temperature of around 0 to 5 degrees Celsius. This temperature keeps the ice cream firm and prevents it from melting too quickly.
Gelato, on the other hand, is served at a temperature that is slightly warmer than ice cream, about 5 to 10 degrees Celsius. This serving temperature helps to highlight the creamy texture of gelato, which melts in your mouth more easily than ice cream.
Nutrition
Nutritionally, gelato is a slightly healthier choice than ice cream as it contains less fat and less air, resulting in fewer calories. Gelato also uses more milk and less cream, making it lower in fat than ice cream. Ice cream can contain up to 20% fat, while gelato is typically around 5% to 8% fat. However, the final nutritional content depends on the specific ingredients used in each dessert.
Conclusion
In conclusion, both ice cream and gelato are excellent frozen desserts that are perfect for cooling down on hot summer days. Although they share many similarities, their differences in texture, fat content, and serving temperature make them distinct from each other. Ice cream is typically fluffier and lighter, while gelato is denser and creamier. Gelato is also healthier than ice cream, thanks to its lower fat content, but the final nutritional content depends on the specific ingredients used in each dessert. Ultimately, the choice between ice cream and gelato is a matter of personal preference, but it's good to understand their differences to make an informed decision.