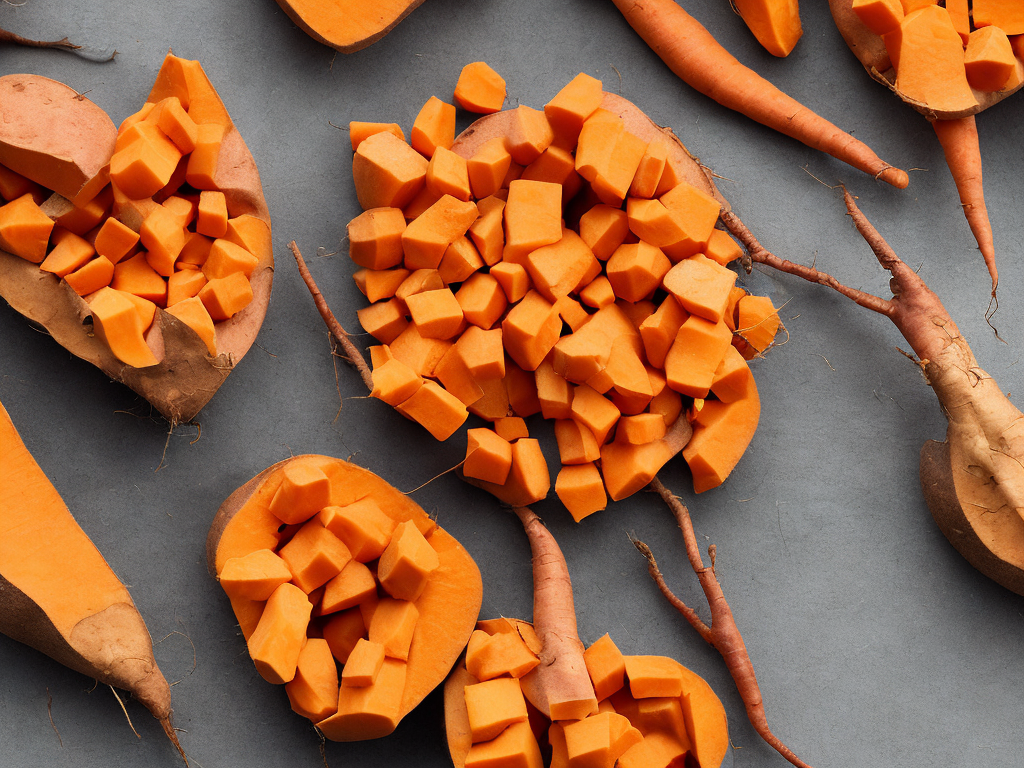 Yams and sweet potatoes are two of the most commonly mistaken vegetables in modern cooking. Despite sharing some flavor and texture profiles, both are distinct vegetables with differences in appearance, taste, and nutritional content. In this article, we'll take a closer look at the difference between yams and sweet potatoes.
Appearance
One of the easiest ways to distinguish yams from sweet potatoes is by appearance. In general, sweet potatoes have a thinner, smoother skin that can vary in color from beige, yellow, red, or purple. Their flesh is orange, white, or yellow and they also come in a variety of shapes and sizes, including tapered, oblong, and cylindrical.
On the other hand, yams have a thicker, rougher skin that is often brown or black. They usually have a cylindrical or tapered shape and are significantly larger than sweet potatoes, sometimes weighing up to 100 pounds!
Taste
While both vegetables can be used interchangeably in many recipes, the taste difference between yams and sweet potatoes is notable. Sweet potatoes have a naturally sweet flavor that is sometimes described as nutty or earthy. They contain a high amount of natural sugars that are released when cooked, making them a popular ingredient in pies, casseroles, and as a side dish on their own.
Yams, on the other hand, have a more starchy taste and a dry texture. They are commonly used in West African and Caribbean cuisine, particularly in stews, soups, and porridges. Because of their rough, fibrous texture, yams are often boiled or mashed before being used in recipes.
Nutritional Content
One of the biggest differences between yams and sweet potatoes is their nutritional content. While both are high in carbohydrates, dietary fiber, and vitamins, there are some differences in the amounts of specific nutrients they contain.
Sweet potatoes are particularly high in vitamin A, with just one sweet potato providing more than 400% of the daily recommended value. They are also a good source of vitamin C, potassium, manganese, and several B vitamins. Additionally, sweet potatoes contain antioxidants like beta-carotene that have been linked to a reduced risk of chronic diseases like cancer, heart disease, and diabetes.
Yams, on the other hand, are a good source of complex carbohydrates that provide long-lasting energy. They are also high in dietary fiber, potassium, and manganese, but contain less vitamin A and C than sweet potatoes. Despite these differences, both vegetables are nutrient-dense and make excellent additions to a healthy diet.
How To Cook Yams And Sweet Potatoes
While there are many different ways to prepare yams and sweet potatoes, some methods are better suited to one vegetable over the other.
Sweet potatoes can be roasted, baked, boiled, steamed, or microwaved. Roasting or baking is particularly popular, as it caramelizes the natural sugars in the flesh and develops a crispy exterior. Mashed sweet potatoes are a classic Thanksgiving side dish, while sweet potato fries are a popular alternative to traditional French fries.
Yams are usually boiled or roasted before being used in recipes. Because of their dense, fibrous texture, yams take longer to cook than sweet potatoes and require more moisture to achieve a tender texture. When boiled, they should be soft enough to pierce easily with a fork, but still hold their shape. One popular way to use yams is in a West African stew, where they are mashed and cooked with vegetables, meats, and spices.
Conclusion
In conclusion, yams and sweet potatoes are two distinct vegetables that are often confused for each other. While they share some similarities in appearance and can be used interchangeably in many recipes, they have different tastes, textures, and nutritional contents. Whether you're a fan of sweet potatoes or yams, both make excellent additions to a healthy, balanced diet.