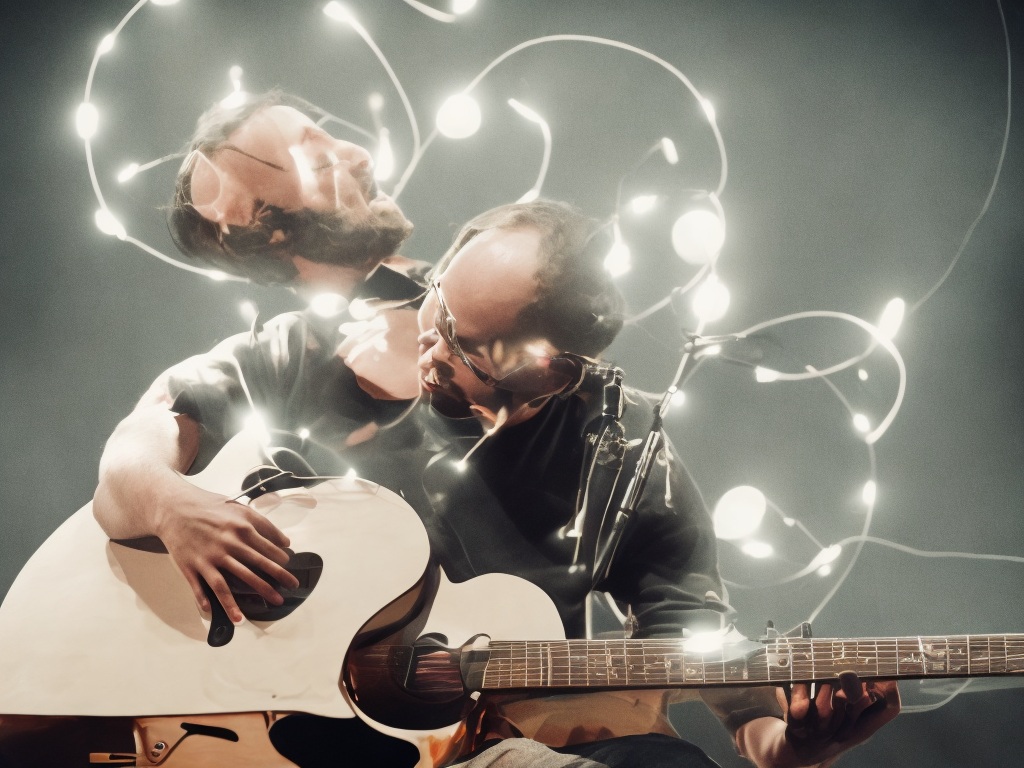 Music is a beautiful form of art that has been around for thousands of years. Whether you are an experienced musician or an aspiring artist, the process of creating music can be a challenging and rewarding experience. There are many different ways to make music, and in this article, we will explore some of the most common methods used by musicians to bring their ideas and creativity to life.
1. Choose Your Instrument
The first step in making music is to choose the instrument or instruments you want to play. This decision will depend on your personal preferences, skill level, and the type of music you want to create. Some popular choices include acoustic or electric guitar, piano or keyboard, drums, bass guitar, and vocals. If you are new to music and unsure of where to start, consider taking lessons or trying out different instruments until you find what feels right.
2. Learn Basic Music Theory
It is essential to learn basic music theory to understand how music works and how to create meaningful music. Music theory covers topics such as melody, harmony, rhythm, chord progressions, and scales. By understanding these fundamentals, you will be able to make better-sounding music and communicate more efficiently with other musicians.
3. Writing Music
The next step is to start writing music. There are various approaches to this, and the one you choose will depend on your creative style and the genre of music you are creating. Some popular methods include:
Melody-first:
This involves creating a catchy melody or tune first, and then building the rest of the song around it. This approach is popular in pop, indie, and folk music.
Chord-progressions:
This involves building a song around a chord progression, which sets the mood and the feeling of the song. This is a popular approach in many genres, including rock, country, and blues.
Beat-making:
For electronic genres such as hip-hop, dance, and EDM, creating beats is often the starting point. By creating a unique and rhythm-driven beat, you can set the foundation for the rest of the song.
Lyric-based:
For those who enjoy writing lyrics, starting with a phrase or theme can inspire the song's melody and harmonies. This approach is popular in many genres, including folk, country, and pop.
4. Collaborating with other Musicians
Once you have an idea of what you want to create, collaborating with other musicians can help bring your music to life. Working with others can bring new perspectives, ideas, and levels of expertise to a project. Collaboration can involve writing together, sharing ideas, playing instruments, or singing harmonies. Finding other musicians to collaborate with can be done online, local music groups or forums, and open mic nights.
5. Recording Your Music
Whether you are just starting out or have been creating music for years, recording your music allows you to share your work with the world. Recording can be done in a professional recording studio, a home studio, or even on your mobile device. Some tips for recording music at home include:
Invest in quality equipment:
While you don't need to break the bank, having reliable equipment can make a big difference in the quality of your recordings.
Create a quiet space:
Find a room or area in your home where you can control the sound and limit background noise.
Use software to enhance your sound:
There are many affordable software programs available that can help you mix and master your music to sound professional.
6. Release and Promote Your Music
Once you have recorded your music, it's time to release and promote it. Uploading your music to online platforms such as Soundcloud, iTunes, and Spotify can reach a global audience. Promoting your music involves creating buzz around your work through press, social media, live shows, and word of mouth. Releasing music can be a rewarding and challenging process, so stay consistent, be patient, and stay true to your musical style.
Conclusion
Making music is a highly personal and unique experience that can bring joy, fulfillment, and creative freedom. There are many different ways to create music, and the process can vary depending on your genre, style, and artistic expression. Whether you play an instrument, write lyrics, or produce beats, the most important thing is to enjoy the process, be open to new ideas, and continue to learn and grow as a musician.