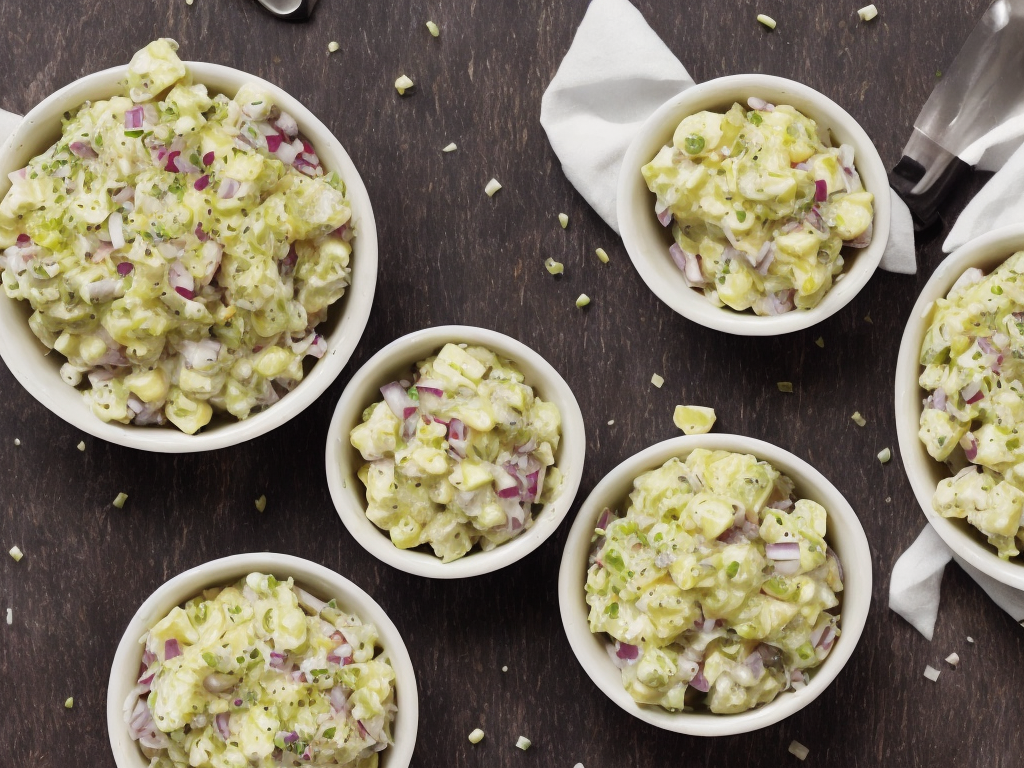 Potato salad is a classic dish that is perfect for any occasion, especially during summer barbecues and picnics. It is a simple yet delicious recipe that is loved by many, and making it is easier than you think. In this article, we will take you through the steps on how to make potato salad – a dish that is sure to be a crowd-pleaser.
Ingredients:
- 2 pounds of potatoes
- 4 eggs
- 1/2 cup of mayonnaise
- 1/4 cup of sour cream
- 2 tablespoons of white vinegar
- 1 tablespoon of Dijon mustard
- 1 teaspoon of salt
- 1/4 teaspoon of black pepper
- 1/2 cup of diced celery
- 1/2 cup of diced red onion
- 1/4 cup of chopped fresh parsley
- Paprika
Instructions:
1. Wash and peel the potatoes. Cut them into small cubes and place them in a large pot of salted water. Bring the water to a boil, then reduce the heat to medium-low and let it simmer for about 10-12 minutes or until the potatoes are tender. You can check the potatoes by poking them with a fork. If the fork goes through easily, then the potatoes are done.
2. While the potatoes are boiling, place the eggs in a separate pot and cover them with water. Bring the water to a boil, then remove the pot from the heat and let the eggs sit in the hot water for about 10 minutes. After 10 minutes, drain the hot water and place the eggs in a bowl of cold water to cool them down.
3. In a small bowl, mix together the mayonnaise, sour cream, white vinegar, Dijon mustard, salt, and black pepper. Stir until the ingredients are well combined.
4. Once the potatoes are done boiling, drain them in a colander and rinse them under cold water to cool them down. Let the potatoes drain off as much water as possible.
5. Peel the eggs and chop them into small pieces.
6. In a large mixing bowl, combine the cooled potatoes, diced celery, diced red onion, chopped fresh parsley, and chopped eggs. Mix everything together until all the ingredients are evenly distributed.
7. Pour the dressing over the potato mixture and mix it well. Make sure that all the potatoes are covered in the dressing. If you think the salad needs more dressing, you can add a little extra mayo or sour cream.
8. Cover the bowl with plastic wrap and let the potato salad chill in the fridge for at least 2 hours. This will allow the flavors to meld together and for the salad to become even more delicious.
9. When you are ready to serve the salad, give it a quick stir and sprinkle some paprika on top to add some color and flavor.
Final Thoughts
Potato salad is a classic dish that is perfect for any occasion. Whether you are hosting a summer barbecue or having a picnic in the park, this recipe is sure to be a hit. By following these simple steps, you can create a delicious and satisfying potato salad that is sure to impress your family and friends. So grab your ingredients and start cooking – your taste buds will thank you.